The history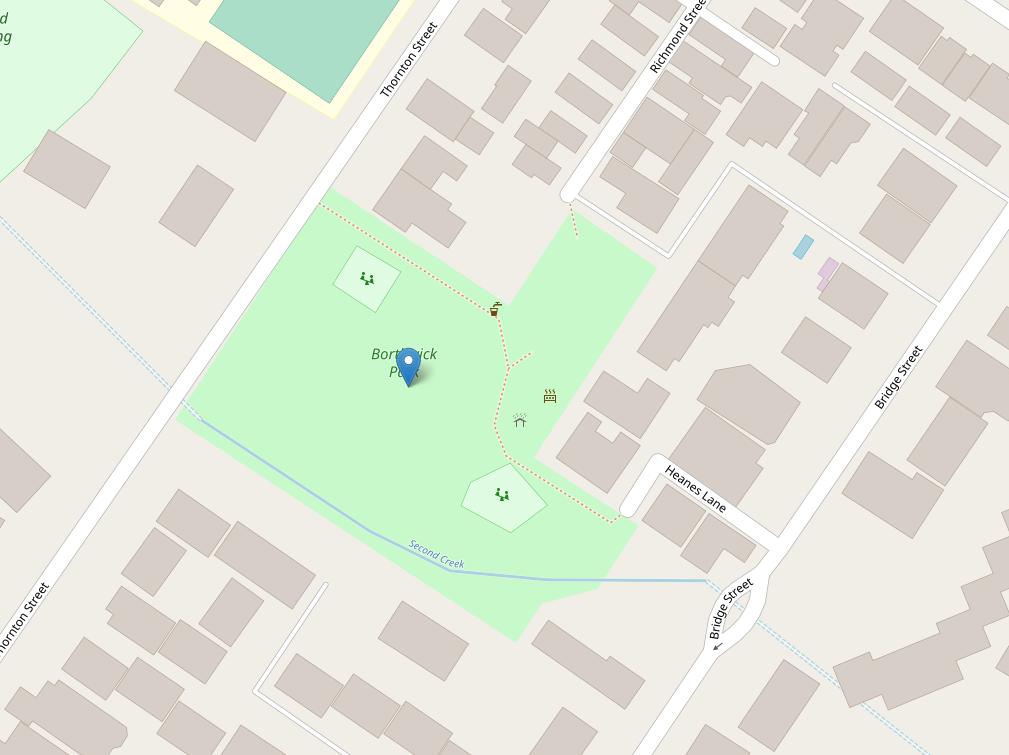 Borthwick Park is a small gem of a park nestled between Bridge and Thornton Streets, Kensington with two small playgrounds and a shelter shed.
While a number of magnificent remnant River Red Gums have dominated the park for hundreds of years, kikuyu grass ran down to Second Creek which borders the southern edge of the park. This grass was extensive and there was no understorey of low plants or even significant native shrubs. This was the situation in the early 2000s.
Exotic trees like ash and pepper trees were dotted here and there together with an unwelcome host of introduced pest plant species, particularly along the creek line.
The project
Working together with Norwood, Payneham and St Peters Council and the Adelaide and Mt Lofty Ranges Natural Resource Management Board, the KRA proposed the establishment of a pre-settlement biodiversity ecology under the remnant River Red Gums using native plants of local provenance.
Plantings began in 2010 along the creek line and have been ongoing every winter since then with new areas established to improve the amenity of the park as well as habitat for native birds and animals.
Notable events since then include:
The establishment of protective 'halo' plantings around the sentinel gums.
'Living bags' placed with sedges and rushes to help protect the highly eroded banks of Second Creek.
A Civic Trust Commendation in the Environment Category at the Civic Trust Awards Ceremony at Parliament House on Thursday 10th November 2011.
Interpretative signage placed around the park to name some of the plants that flourish in the area.
The establishment of a butterfly garden and grass promenade parallel with the pathway.
The installation of twelve nesting boxes for birds and bats in the park in 2018.
Modification of the western end of the creek to address standing water, fast flows and establish some nature play in 2022.
The Kensington Residents' Association has been lucky enough to be able to source a wide range of local species, initially from Burnside Council's plant nursery then from grower Heather Whiting and more recently from Trees for Life and Coromandel Native Nursery.
The results are plain to see. By planting local species in an environment where the plants have always belonged, visitors to the park are struck by the extraordinary growth that has taken place.
Other benefits are starting to be seen; reduced pollutants and run-off into the creek and an increase in insect, butterfly and bird numbers.
The update
At the end of 2022 an update on the Borthwick Park Biodiversity Project was prepared and hard copies provided to project partners and other interested parties. Click the link below to download the update report and learn more about the history and successes of this community-led biodiversity project.