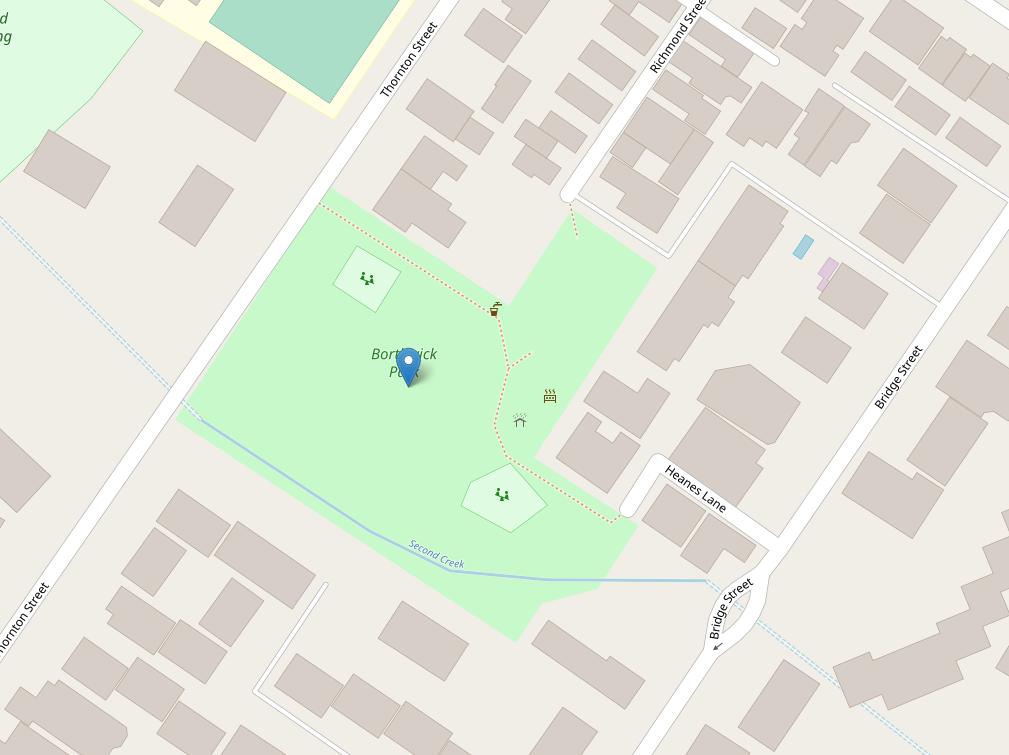 Have you seen our plantings in Borthwick Park, Kensington? The park runs between Bridge and Thornton Streets, Kensington.
Plantings commenced in 2010 and are ongoing. Check out the plantings for yourself to see how local native plant species flourish in Kensington.
All of the plants listed in our Plant Species List are flourishing in Borthwick Park and easy to grow in Kensington. Being local to the area they will quickly establish themselves in most gardens. However there are some ways in which you can maximise your chances of success. See the individual plant details for species-specific information.
General tips
Vary Plant Height
Where to buy?
More Information
References
General tips
Remove or poison weeds before planting.
Plant in autumn or winter when the ground is moist.
Although many plants will tolerate part shade, plant in full sun wherever possible.
Plant trees a safe distance from fence-lines, buildings, drainage and power-lines.
Use tubestock; it's cheap. Plants grown in larger pots may start off larger but tubestock quickly catches up.
Most native plants prefer well drained soil.
Dig a hole at least twice as wide and slightly deeper than the root mass.
Create a saucer shaped depression around each plant to help catch and direct rainwater.
Use mulch to reduce water loss.
If you use fertiliser, make sure it's designed for native plants and low in phosphorous.
Most natives are drought tolerant but do give them a drink over their first summer.
Do lightly prune shrubs and smaller plants—they all used to be regular kangaroo food!
Many native plants are short lived (up to fifteen years). Remember to plant replacements before their use-by date!
Vary plant height
In natural bushland you'll see plants at different heights, from the tall trees of the upper storey to the middle and lower storeys of smaller shrubs. The understorey of groundcover, grasses and leaf litter, fallen branches etc all makes up this natural environment. Planting your garden in this way can create a natural look and attract native animals like birds, butterflies, possums, frogs and lizards.
Planting in clumps emulates nature and creates a great visual effect.
Check out our Plant Species List for details and photos of 20 local plants for your garden.

Where to buy native Australian plants
State Flora
Queens Jubilee Drive (next to Old Government House)
within Belair National Park
Upper Sturt Road, Belair, SA 5052
Telephone: 08 8278 7777
Web: https://www.stateflora.sa.gov.au/

Coromandel Native Nursery
28 Star and Arrow Road
Coromandel East, SA 5157
Telephone: 08 8388 2777
Web: http://www.natives.net.au/CNNMain.html
More information
City of Norwood Payneham & St Peters
175 The Parade
Norwood, SA 5067
Telephone: 08 8366 4555
Web: www.npsp.sa.gov.au
Trees for Life
Backyards4Wildlife
Web: http://www.adelaidesustainabilitycentre.org.au/backyards-4-wildlife/
Australian Plants Society
Web: http://www.australianplantssa.asn.au/
References
Bagust, P. & Tout-Smith, L. 2005. The Native Plants of Adelaide. Adelaide. SA Department for Environment and Heritage.
Hunt, Grund, Keone and Forrest. Attracting butterflies to your garden.
Biodiversity in your backyard (brochure) https://www.npsp.sa.gov.au/directory_documents/29_biodiversity_in_your_backyard
Common Local Native Species of the Adelaide Plains (brochure, NPSP Council)
https://www.npsp.sa.gov.au/directory_documents/30_common_local_native_species_of_the_adelaide_plains
Backyard Biodiversity https://www.campbelltown.sa.gov.au/search?collection=campbelltown-council-meta&query=Backyard+Biodiversity